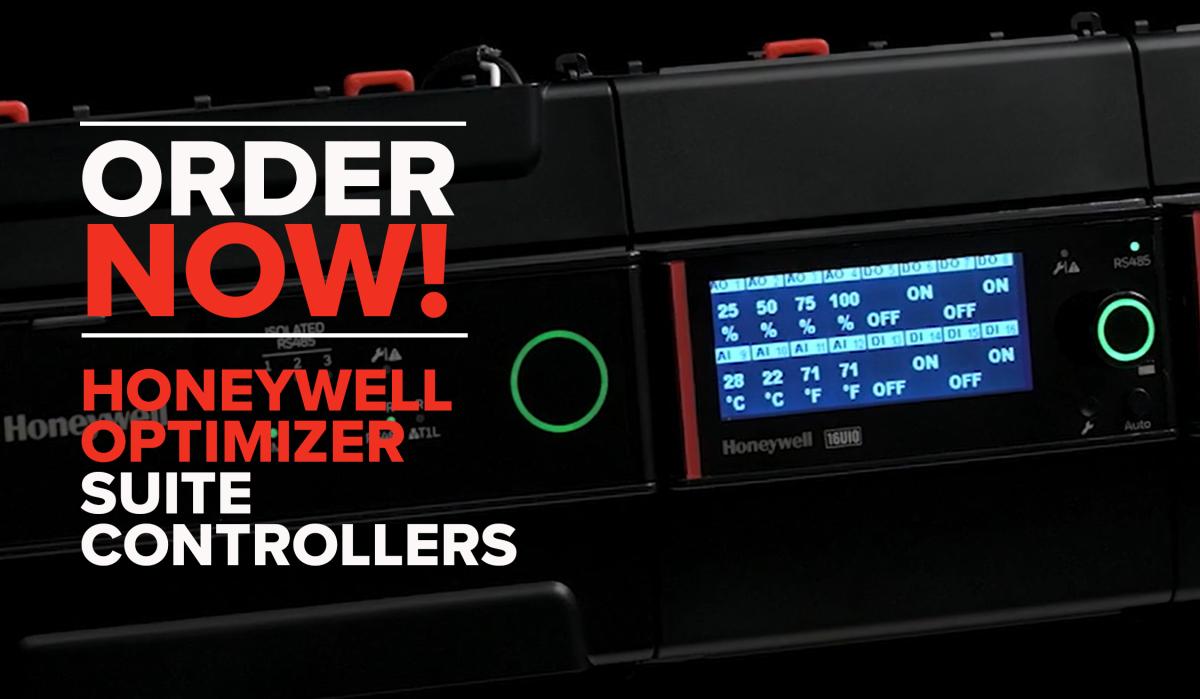 Developed for convenience, compatibility, and cybersecurity, upgrading to the Honeywell Optimizer Suite of controllers allows you to retain your existing infrastructure while optimizing the capabilities you require. The Optimizer Suite makes it easy for even new technicians to install, effortlessly add capabilities without the need to rip-and-replace legacy infrastructure, and includes built-in cybersecurity to safeguard your OT, effectively closing the back door to IT networks.

The Optimizer Suite is an open-protocol solution leveraging the powerful Niagara Framework, encompassing an array of advanced building controllers, including the Optimizer Unitary Controllers and Optimizer Advanced Plant Controllers, each offering unique features and benefits to cater to the diverse needs of modern building management.

Optimizer Advanced Plant Controller
The Optimizer Advanced Controllers are the latest addition to Honeywell's family of next-gen controllers specifically built for large, complex plant environments. These advanced controllers are easy to install and use, even for new hires. Capabilities are be easy to add, without ripping-and-replacing legacy infrastructure, and they feature built-in cybersecurity to protect OT, closing the backdoor to IT networks.
Optimizer Advanced Controllers are freely programmable IP devices based on the Niagara Framework™, with a dedicated suite of I/O modules to provide versatile control options. Using the power of Niagara they provide both Ethernet & Serial integration options and are native BACnetTM Building Controllers (B-BC)
1. Install & Service Faster: Lower your installation and lifecycle costs. Remove and service I/O modules without moving adjacent modules or rewiring. Its quick, reliable and scalable.
2. Easier Operation: Simplify integration, routing, and plant control, even for newer technicians. Hand-Off-Auto (HOA) display can manage local I/O channels and overrides, with or without controller.
3. Future-Proofed: The Optimizer platform makes it easy to upgrade capabilities, now and in the future. Rigorous cybersecurity protects building control and OT systems so you can focus on operational goals with confidence.
Learn More about Optimizer Advanced Controllers
Download Optimizer Advanced Controller PDF

Optimizer Unitary Controller
The Optimizer Unitary Controller is a key player within the Honeywell Optimizer Suite, designed to deliver unmatched efficiency and control in single-zone applications. With both wired and wireless options, this controller takes advantage of IP-grade cybersecurity, universal I/Os, and groundbreaking twisted pair T1L technology, so you can transfer HVAC data without disruptive and expensive infrastructure upgrades.
1. Flexibility: Whether you prefer wired connections or wireless setups, the Optimizer Unitary Controller adapts to your needs seamlessly. It even supports groundbreaking twisted pair T1L technology, making it an ideal choice for various building infrastructures. The Optimizer platform makes it easy to upgrade capabilities, now and in the future.
2. Demand-Led Control: Efficiency is at the core of the Optimizer Unitary Controller's design. It offers demand-led control, ensuring that energy consumption aligns with real-time needs, ultimately leading to substantial cost savings.
3. Integration and Communication: This controller supports a range of communication protocols, including BACnetTM IP, BACnetTM T1L, and BACnetTM MS/TP. Additionally, it features integration protocols like SylkTM and Modbus RTU, facilitating the connection of different devices and systems within your building.
Learn More about Optimizer Unitary Controllers
Download Optimizer Unitary Controller PDF
Contact your local Cochrane Supply rep today to get started!