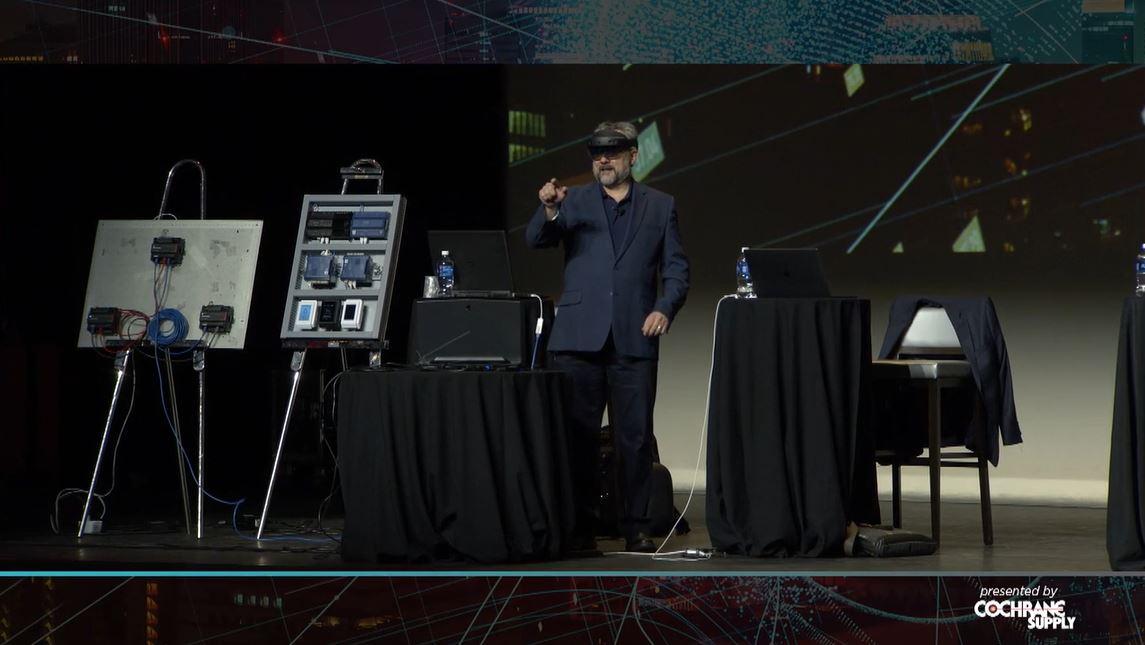 Augmented reality is an interactive experience that blends the physical world and the digital world, where digital content and information can be superimposed on a view of the real world. This is commonly seen in things like cell phone apps that put 3D models on top of what the phone's camera is seeing. Mixed reality takes this to the next level, creating a fully connected experience between the two worlds, where objects from both worlds can interact with each other in real time. New advances in mixed reality technology are expanding its reach to increasingly more markets, and that includes the building automation systems (BAS) and HVAC space. With mixed reality you can visualize anything related to the BAS and HVAC controls industry—such as data points, floor plans, equipment and so on—right inside your view of the real world.
Say you were walking through a physical plant and you wanted to override the values of the building's chillers, boilers and valve positions. Somebody could do that remotely on their computer with the right permissions and the right access, or, you could use mixed reality to instantly view and override the values of exactly what you're looking at, or even receive remote assistance from someone else with a live view of what you're seeing. These concepts are now reality with HoloLens 2!
What is HoloLens 2?
HoloLens 2 is the latest mixed reality headset from Microsoft. It leverages the latest in mixed and augmented reality technology and works great with popular development platforms already found throughout the BAS industry, including Visual Studio, Unity, Blender, Revit, 3ds Max, Navisworks, and many others.
With HoloLens 2, you can leverage mixed and augmented reality by collaborating with colleagues, other industry professionals, owners, tenants, etc. via a shared meeting room. It is a mixed reality device, so you are able to see real objects through the glasses, but it superimposes digital things into the physical space for you to see and interact with. There are a lot of different devices out there, but HoloLens 2 is by far the most advanced, and this is the one that Cochrane Tech Services has been experimenting with as a smart building technology.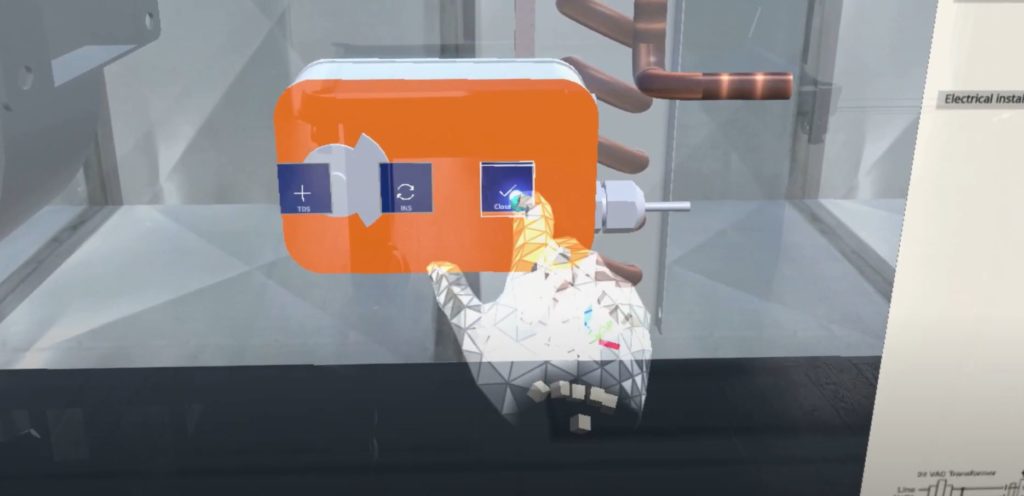 Why use augmented and mixed reality with HVAC and building automation systems?
Benefit #1: Hands-free remote communication
HoloLens 2 allows you to remotely communicate with someone hands-free, tech-to-tech or tech-to-support. You can visualize your environment and share it with people outside of your space. Say you have one technician who is familiar with a certain subject and they're in Colorado while you're in Michigan, and you have to work on a particular device that you're not quite sure about. You can put on a HoloLens 2 and call the technician in Colorado through the Teams-like Remote Assist interface in the headset. They can then see what you're seeing, and with you being hands-free, you can get your hands on the controls and wiring while they guide you through necessary actions, show you documents, point things out on the interface, and more.
Remote Assist is like having a tech on your shoulder for support, maintenance, repairs, inspection, or training. Imagine an HVAC or building control system automatically creating a maintenance ticket, and the tech could put it on their HoloLens 2 and be guided across campus to the proper building where the issue is located. It would guide you right through the doors, up three floors and down the hall to the proper equipment room. You would then be presented with the live equipment data for the air handler in question, for instance, and be walked through holographic guides for all the different maintenance tasks possible for the AHU. Then, once the task was completed, you would have access to the maintenance forms with one press of a holographic button—task accomplished!
Benefit #2: Visualizing building equipment and spaces in real time
Another amazing benefit of HoloLens 2 is that it lets you visualize building control spaces and equipment in real time (again, all while being hands-free). You can walk around a mechanical room or floor plan, see every temperature in the space or building (through the walls), see the status of actuators, fans, and more, and be able to move through it all. You can create a truly mixed digital and physical environment that has all of the digital elements from your BAS system combined with the real world equipment, and share that entire experience with someone off-site.
The different software available to implement this includes: Dynamics 365 Remote Assist, Autodesk Navisworks, Unity, Unity Reflect, a Niagara 4 connector coming soon (to pull in live data to physical things), and Microsoft Mesh. Microsoft Mesh creates meeting rooms/spaces that different users of the HoloLens 2 can join and collaborate on things like building design, piping layouts, and other control systems, giving them the power to physically move things around and make adjustments that everyone can see in real time.
Benefit #3: Real time training and education
Mixed and augmented reality for HVAC and building automation systems can also be used for education and training, such as showing a new employee how to wire up panels and controllers, guiding people through steps to maintain HVAC equipment or other building controls products, or demonstrating equipment procedures. Microsoft's Dynamics 365 Guides is an entire software package dedicated to this, allowing you to easily create step-by-step holographic instructions for use with HoloLens 2.
How do I get started with the apps?
For Dynamics 365 Remote Assist:

Buy a Remote Assist License for the user on the HoloLens end
Users they communicate with only need a Teams license—OneDrive/Office 365, etc. is a plus
Download the Remote Assist App in HoloLens 2 via the Microsoft App Store
Log in and start making calls!
For Dynamics 365 Guides:

Download the Guides creation tool to your PC
Sign up for the trial (usually one month for 25 users free)
Create a test environment and install Guides to it
Create your first Guide in the app!
For Unity-driven apps:

Download Unity's dev platform and Microsoft's Visual Studio
Download Microsoft's MRTK (Mixed Reality Toolkit)
Start with Microsoft's tutorials
Build an app and deploy to your HoloLens 2 via USB or Wi-Fi!
How can I buy a HoloLens 2?
You can buy a HoloLens 2 online through the Microsoft Store, or, you can lease one monthly from Cochrane Supply & Engineering. Contact Cochrane Supply today to get started!
Helpful links and resources
Dynamics 365 Remote Assist: