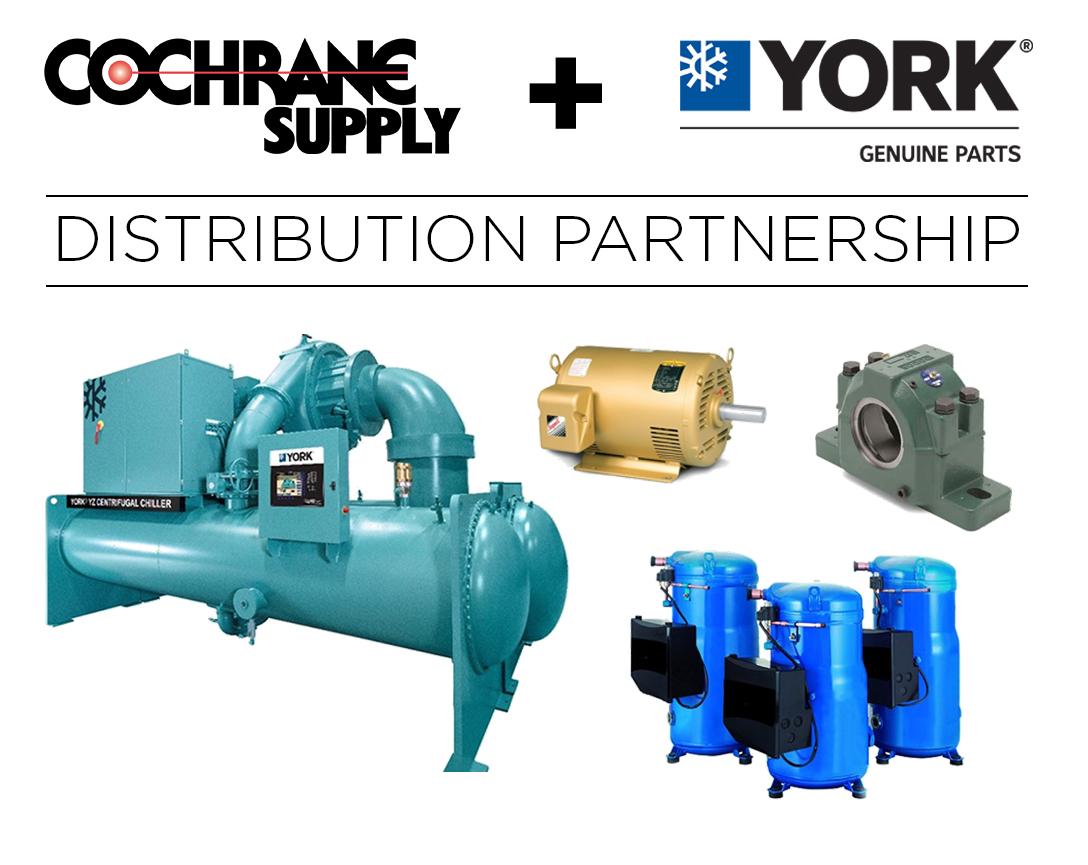 MADISON HEIGHTS (4/10/23) - Cochrane Supply & Engineering announced today a new distribution partnership agreement with YORK® HVAC Systems. Under the terms of this agreement, Cochrane's Michigan and Colorado branches become official YORK® Authorized Parts Distributors (YAPD), adding YORK® genuine replacement parts to their extensive inventory of building control and HVACR products.
By partnering with YORK®, Cochrane Supply expands their offering of industry-leading products to include YORK's world-class chiller replacement parts, York Chiller Part Kits, York Motors, York Compressors, York Oil, York Bearings, York Seals, York Coolant, and more.
YORK® benefits from this partnership by gaining access to Cochrane's unmatched distribution network and expanding their YAPD locations into two new markets.
"We are excited for the potential this partnership brings both YORK and us," said Nicole Conklin, Director of Products & Marketing for Cochrane Supply. "YORK is a global leader of chiller systems and parts, adding them to our brand offering provides our customers with the highest quality products to help them succeed."
Download YORK® Preventative Maintenance Kits Flyer
Download YORK® Chiller Replacement Kits Line Card
About YORK
Trusted in the world's most prestigious buildings for more than 145 years and backed by world-class service and support, every YORK® system is designed to deliver performance that uses less energy and that runs more efficiently in real-world conditions. From a simple retrofit all the way to the most complex, custom installations in the world, every YORK® system is designed for efficient, long-lasting performance that uses less energy and that runs more efficiently in real-world conditions. Among major HVAC manufacturers, YORK® has a long-held reputation of technical excellence, dedicated customer support and outstanding quality that backs every customer and every contractor – ensuring a smoother experience, and a better long-term investment. That's the YORK® advantage. Learn more at https://www.york.com/