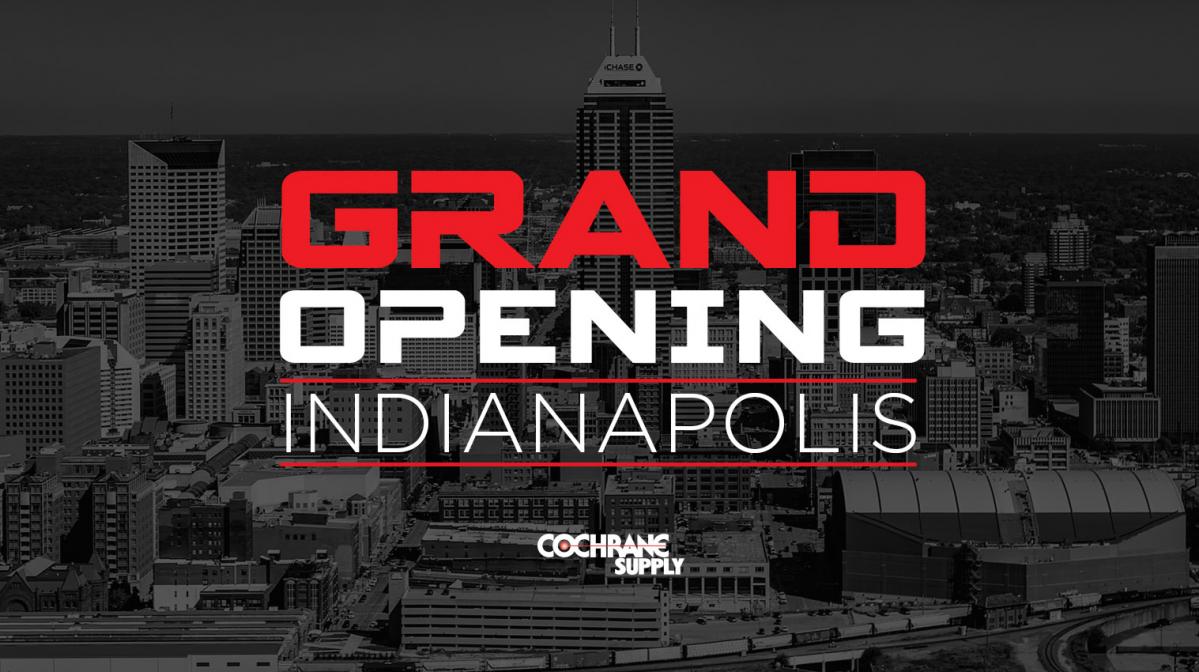 Cochrane Supply & Engineering is excited to announce the official Grand Opening of its new Smart Building Controls and HVAC Supply location in Indianapolis, IN! The HUGE Grand Opening event is scheduled to take place on Thursday, July 22nd, 2021 from 9:00am to 3:00pm EST at Cochrane Supply, 5347 W Raymond St, Indianapolis, IN 46241.
Cochrane Supply Indianapolis has a full lineup of celebratory festivities planned to officially launch the opening of its doors--including a highly-anticipated, comical and can't-miss Cochrane 500 for guests to participate in! Local HVAC and mechanical contractors, service technicians, systems integrators, engineers, facility managers and other industry professionals are invited to attend and get access to a wealth of resources now readily available to help them be more successful and better serve their customers.
REGISTER NOW to reserve your spot and discover how this new local supplier is more than just another inventory-stocking distributor. Cochrane Supply is also pleased to be your technology solutions provider, offering world-class training and nationally-recognized support along with that inventory to be Indiana's one-stop shop for making buildings smarter.
Indianapolis Building Controls & HVAC Supplier Grand Opening
The Grand Opening of Cochrane Supply Indianapolis will be a six-hour celebration packed full of excitement, swag, resources, and the Cochrane 500! On-site event highlights will include:
12-Vendor Building Automation Trade Show
Free 30-Minute HVAC and BAS Training Sessions Throughout Entire Event
Networking with Local Industry Peers
One-on-One Time with Top Industry Manufacturers and Reps
Food Truck Lunch
Meet-and-Greet with the Faces of Cochrane Supply
Facility Tours
The Cochrane 500 - A hilarious racing experience you won't soon forget!
Giveaways, Fun Activities, and More!
Free Building Automation & HVAC Training
During the Grand Opening event for Cochrane Supply Indianapolis, there will be 12 Building Automation and HVAC Training sessions offered in Cochrane Supply's all-new training room. Stop by for the day or for any given session of interest and get questions answered in real-time from some of the industry's top manufacturer representatives. The Grand Opening training session schedule is as follows:
9:00am-9:30am | Maxitrol - Certified Line Pressure Regulators
9:30am-10:00am | Seitron Americas - Importance of Combustion Analysis
10:00am-10:30am | Belimo - Sensors
10:30am-11:00am | ACI - Air Quality Sensors
11:00am-11:30am | Tridium - Reflow
11:30am-12:00pm | Johnson Controls - JCI: What's New for 2021
12:00pm-12:30pm | Honeywell - The TCA500A Commercial Thermostat
12:30pm-1:00pm | Phoenix Contact - Remote Connectivity & Security
1:00pm-1:30pm | Functional Devices - Functional Devices 101
1:30pm-2:00pm | Yaskawa - HV600 Introduction
2:00pm-2:30pm | Honeywell Analytics - Top Commercial Gas Detection Applications
2:30pm-3:00pm | Kantech - Introduction & Benefits of Kantech to Integrators
Invite Your Colleagues!
The Grand Opening event for Cochrane Supply Indianapolis is open to all building automation and HVAC professionals, so feel free to share the details with co-workers and/or on social media! Download the event flyer here.